About VIA  1.  Outreach Component Outreach Work is facilitated via a range of events undertaken with the primary aim of identifying potential service users and is carried out by VIA volunteers, many of whom joined our ranks as clients.  Memberships, are solely dependent on service and therein open to all Armed Forces Personnel, Veterans and their […]
Continue reading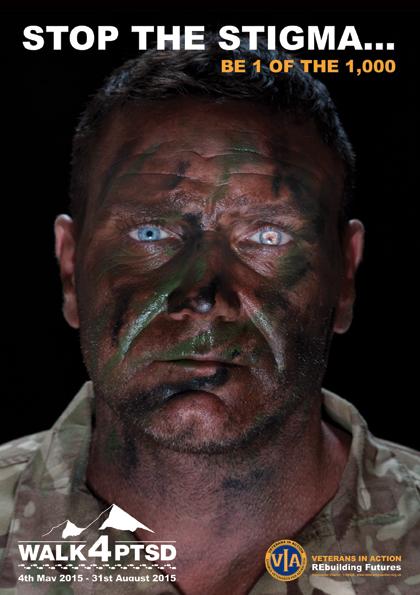 Be 1 of the 1000.... Join Us....
ALIVE Program Achievement: Learning: Involvement: Veterans: Experiences: The ALIVE Program has Three Stages and two distinct elements being Centre Based Element and Outdoor Element. There are no time limits for the individual stages and veterans can join at any time. Veterans can join each stage at different times, as their progress can be affected by […]
Continue reading
 Veterans In Action
Veterans In Action (VIA) is a UK based charity that helps veterans who have suffered the effects of war or who find the transition to civilian life difficult specialising in the social reintegration of HM Forces Veterans to civilian life.
VIA take a non-therapy approach and instead use the outdoors, challenging events, expeditions and center based projects to help rebuild veterans' confidence, self-esteem and self-belief.
To enable VIA to do this they have designed their own unique Program called ALIVE based on studies in Australia into Wilderness and Adventure Therapy and through their own training adapted to work specifically with veterans.
Over the last 4 years VIA have walked a distance of 8,600 miles across the UK where veterans join our team for a 30 day period which challenges them physically and emotionally working alongside their peers.
The overriding aim VIA is to develop a national Veteran support framework centering on the principles of Center Based Projects and Adventurous Activities, in support of the UK's Veteran community.
After a veteran has been identified as an individual who might benefit from our services, we offer a range of support packages designed to encourage social participation and to a degree challenge the individual via a range of meaningful activities from fundraising to the more physical challenges engendered in Adventure Training.
As suggested our services can be divided broadly into two distinctly separate areas, the Center Based Element where veterans get fully involved in developing projects that they run whilst the other focuses specifically on Adventurous Activities and Expeditions.